Handles 1000 Messages per Second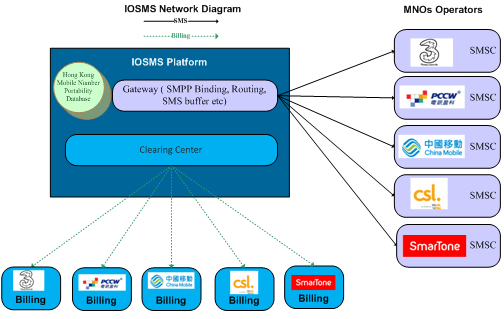 GIN was founded in 2002 and received a public non-exclusive telecommunications service license ("PNETS") from the Office of the Telecommunications Authority ("OFTA"), the governing body for the telecommunications sector in Hong Kong, to provide IOSMS in Hong Kong.
GINSMS is a service provider focused in providing inter-operator short messaging services ("IOSMS") to mobile telecom operators in Hong Kong. It is one of only three IOSMS hubs in Hong Kong. Apart from IOSMS, GINSMS also offers services including international SMS wholesale, bulk SMS, sms marketing, SMS APIs for web applications.
Seedsquare's IOSMS gateway has built, delivered and is still supporting connections between all mobile and fixed line operators. The gateway identifies the recipient's operator ID and delivers the message to the corresponding operator's SMS gateway. IOSMS' function is to identify and deliver an SMS correctly. These operators are charged a fee based on traffic relayed through GIN's IOSMS gateway. Seedsqaure's IOSMS billing system is Clearing Center that has agreements with each telecommunications operators in Hong Kong. This billing system supports multiple (SMS detail Record) SDR format with each operators and generate SDR and Monthly Billing Report automatically.
IOSMS platform features below:
Web portal for Hong Kong MNO operator work on IOSMS connection, routing and billing
Administration web portal for provision and maintenance service
Automation on handling blacklist upload, Mobile Number Portability
Traffic report , message trace report and monthly report
Clearing Center , SDR and billing report